nManager
Home > Solutions & Products > ONEVision > nManager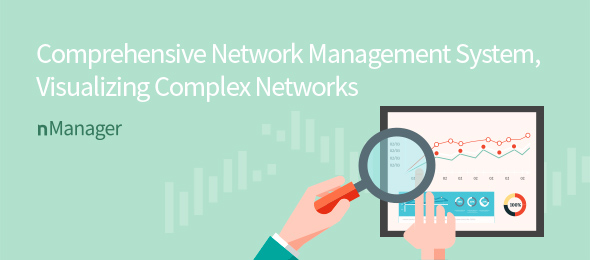 nManager is an integrated network management system which monitors failures in multi-vendor and multi-technology network equipments that provide communication or electricity services, such as LTE, mobile communication networks, smart grid networks, and disaster response networks, in a real-time fashion. It also provides KPI analytics and traffic trend analysis capabilities.
About the Product
nManager offers features which enable the integrated management of various types of equipment that comprise wired networks, wireless networks (2G, 2.5G, 3G(WCDMA), WiMAX and LTE), smart grid networks, and convergent networks. nManager also helps network operators promptly detect network failures and performance degradation, and analyze the root causes of problems in order to take corrective measures.
In particular, nManager is equipped with a memory-based, high-speed data processing engine to facilitate the real-time processing of massive data collected from the network. Moreover, Its distributed processing architecture allows operators to configure with small Linux servers depending on their network scale.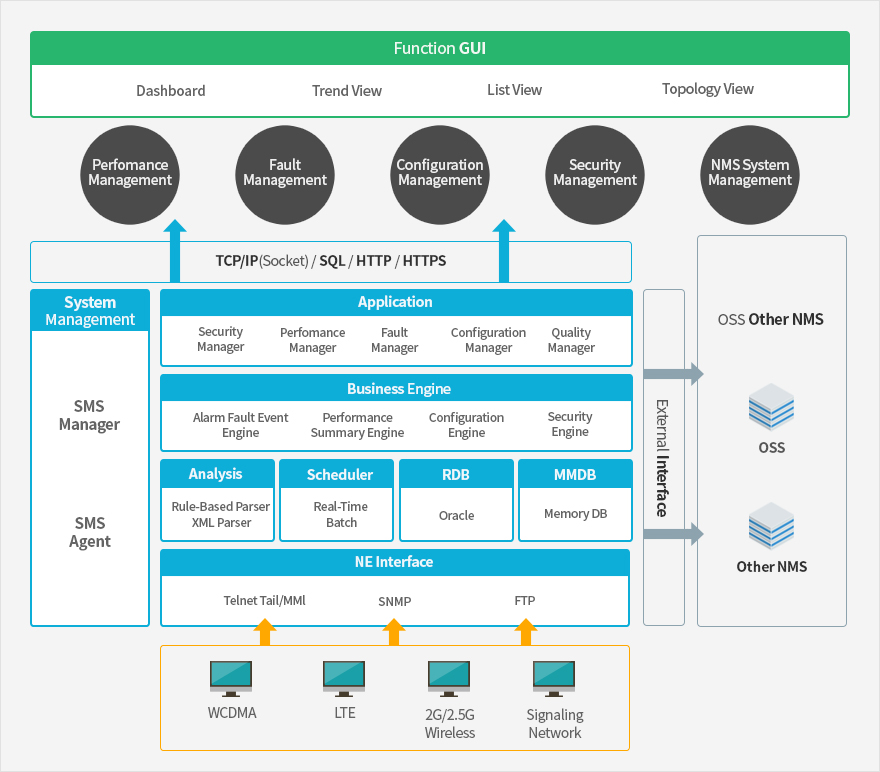 Product Advantages

Supporting multi-vendor, multi- technology mobile networks, transmi- ssion networks, IP communication devices, and smart grid networks

Offering a single view interface for integrated monitoring and analysis

Map monitoring to help proactively identify potential network failures and quality issues
Key Features
Real-Time Monitoring and
Analysis of Network Failures
Real-time monitoring of multi-network failures in an integrated view
Intensive monitoring and popup feature for critical failures
Managing each network error as a group
Conducting correlation of alarm information collected from the network based on
correlation rules, creating correlated alarms in cases where information conforms to the correlation rules
Analyzing network failures in detail
Analyzing repetitive failures
Periodic Performance
Monitoring and Statistics
Provision
Comprehensive monitoring of network performance and service quality
Detailed quality analysis through the network topology feature
Visible/audible performance monitoring which enables the immediate reporting of
performance degradation to network operators by producing KPI alarms
Presenting features specially designed for mobile communication providers,
such as No Call Monitoring
Map Monitoring
Monitoring network performance and failures for main administrative districts and roads
Drilling down to lower level maps for detailed investigation
Trouble Ticketing
Issuing trouble tickets according to the user's pre-defined rules
Sending tickets via SMS or email
Managing the status of issued trouble tickets
External Interface
Providing the fault, configuration, and performance data collected and
processed by nManager to external systems through a standard interface
Expected Effects
Contributing to the decrease in operating costs through the improvement of monitoring capability and operating efficiency
Easy to monitor software upgrades or the redeployment of installed devices to other areas or sections of the network
Multi-domain monitoring costs reduction through integrated fault management
Easy to identify overall network problems with the centralized network monitoring method
Easy to analyze trends and root causes of trouble through the trouble history management feature
Rule-based parsers help apply change in collected messages to the whole package simply by revising rules, no need to change software
References
Integrated network failure/performance management for mobile communication
Communication network management for high-speed railway
Smart grid network management for utilities